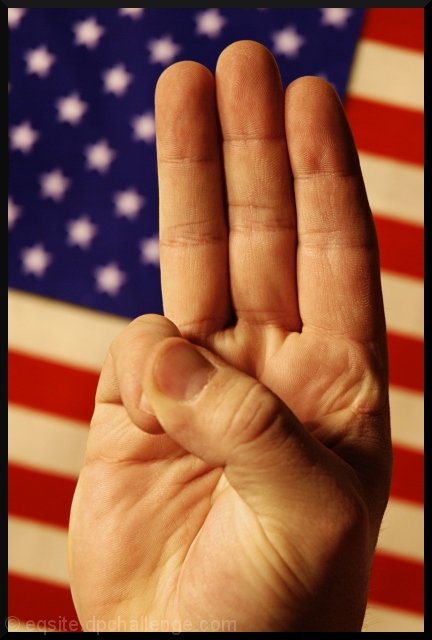 There are any number of reasons why I would argue that the Boy Scouts made the wrong decision when they decided to change their policy concerning homosexual Scouts, and none of them involve undue discrimination. Notice I did not say "homosexuals in the Scouts" because I think there is an important distinction to be made here. A "homosexual Scout" is one who feels that it is necessary to make his homosexuality synonymous with the fact that he is a Scout, whereas a "homosexual in the Scouts," may see his sexual inclinations as incidental to the primary issue, which is that he is part of a larger brotherhood called the Boy Scouts.
What a strange and perplexing world we live in where parents and youth leaders fall prostrate before a cause that in reality should have little or nothing to do with what it means to be a Scout. If a boy is struggling with his sexuality, or confused about whom he is attracted to, fine, but to what end should he/we be announcing that to the whole group. Our personal struggles are our personal struggles, and if we wish to express them, then we should do so as we express all of our
personal
struggles, to a select number of individuals that we trust (or if we prefer it, to no one at all). Yet I suppose in this hyper-sharing "twitterized" culture, everyone must tell everyone else every last thought that enters their head.
Presumably one does not join the Boy Scouts because they believe it to be the best place to work out their sexual feelings. The same might be said for the military. The reason the military exists in the first place is to protect the homeland, not to get into the weeds about one man's amorous feelings towards another. By the same token, the Boy Scouts exist for the purpose of teaching young men basic survival skills as well as how to live virtuously. If a boy wants to confide certain private matters to a scout leader, then let him do so. But to go beyond that really is a bizarre form of public confession. One of the reasons for having an all boys troupe is to avoid certain co-ed distractions. But now, thanks to the aforementioned policy, we are potentially introducing a whole new set of distractions. By drawing specific attention to the issue of homosexuality, we are amplifying the problem, not diminishing it. You have taken a matter that could have been handled in a more gentle and sensitive way, and brought it to the center of everyone's attention.
To be fair, what defenders of this policy are trying to prevent (I think) is the type of situation where a boy is removed from a troop because he's "outed" by someone. And I agree, no one should be humiliated or treated like a pariah for something that is beyond their control. Yet this is precisely where the "law of unintended consequences" comes into play. I do not deny that there are many well meaning people who fail to see the conflict of interest. My question is how can they fail to see it? Unless we all just fell off the turnip truck yesterday, anyone with a little foresight and paternal instinct should be able to detect the larger dilemma that awaits us down the road if we go forward with this agenda. Below I offer several common sense concerns that I have regarding the implementation of this policy:
If, in the context of the Boy Scouts, someone chooses to "come out" and admit that they are physically/sexually attracted to the same sex, then wouldn't such an admission require a certain degree of segregation among the boys? In other words, since these boys live in such tight quarters, would we not need to provide separate showers as well as sleeping arrangements for them? We do the same thing in a co-ed environment in order to prevent sexual exploitation. Why would the same principles not apply here?
From a more Christian perspective, if the Scouts maintain their traditional policy on the sinfulness of homosexual behavior, then how can they justify putting young men together who, by their own admission, are physically/sexually attracted to one another? Are they not leading them into temptation by doing this? If I myself were able to shower, dress, and share the same bathroom with a group of girls I too might find myself focused on things that I shouldn't be.
By introducing the possibility of "gay Scouts," are we not now tacitly approving of these kind of impulses by giving them their own special category of protection?
One question that has been largely ignored in this debate is how the issue of a child's sexuality would come up in the first place. Did they tell everyone? Strange. Did they tell someone in camp and that person told everyone? Sad and unfortunate. Did they have a relationship with another boy in camp, or was there some other incident that happened prior to the Scouts? The point is it is difficult to envision a scenario in which something like this would come out without it being highly problematic on any number of levels. Consequently, such dilemmas would best be handled by particular scout leaders, rather than a one size fits all policy that would clearly be unable to account for the unique complexity of each case.
What happens if two boys are caught acting out sexually with one another? How do you handle that situation? Do you condemn it? Do you kick them out? Obviously the issue is far more complicated now, for if you do expel them at this point, then are you not doing so (in a sense) for the very reason that you said you shouldn't do it? So let me get this straight, you can talk about being gay, you just can't "act gay"? Sounds like mixed signals to me.
Once the "cat is out of the bag" on a particular scout member, how do you handle the problem on a corporate level? Do you tell the rest of the boys to treat this kid with special care and sensitivity as if he has "special needs" (this sounds quite patronizing and would most certainly make the child in question feel even more ostracized than before)? Or do you tell everyone that this child's impulses are just as legitimate as everyone else's? Pick your poison. In either case, you have put a group of young men in a most awkward and uncomfortable position, and none of them can really be blamed for behaving as such.
If you accept this new policy, then on what grounds would you deny a gay Scout leader their opportunity to serve as well? Assuming that this individual is living in a chaste manner, what basis would you provide for turning him away. In the end you wouldn't be able to reject him without seeming arbitrary and inconsistent in your logic. But whatever the case, the more important question in my opinion is; "How and why do we know this information about him in the first place?" This is a disturbing enough question on its own, and if we know the answer to it, then we probably know it for all the wrong reasons.
What about a child that might be a little confused about their own sexual identity? Does this policy not in some ways encourage the potential exploration of those feelings? Or what about the temptation for an older Scout member to exploit a younger one? Would this policy not provide good cover, or at least an excuse, for what otherwise would be unacceptable behavior?
I am assuming that the Boy Scouts still consider themselves to be a semi-religious organization. If this is the case, what is the significance of encouraging (or at least allowing) individual Scouts to "come out?" How do you at once make a big production about embracing homosexuals, and then at the same time suggest that it is sinful to act on those inclinations. The same applies for a Scout leader. If the Scouts regard the homosexual inclination as sinful (i.e. something that should not be acted upon), then to what end are we/they bringing it up at all. This is no more relevant to a discussion among young boys, than bringing up ay other personal peccadillos that may reside in the silence of their hearts. I really get turned on by feet. Well, thank you for sharing!
What if down the road (which seems likely) the Scouts ultimately change their attitude about the homosexual lifestyle altogether? What will prevent a Scout leader from talking about his partner and presenting certain values that run contrary to the values that most parents want? And all this to say that we haven't even begun to discuss the murky territory of how to address a situation in which gay parents want to become more deeply involved in their child's Scout troop.
Despite what some may think, this attempt to "split the baby" on the issue, will not make anyone's life any easier. When the rules are logical and clear, everyone knows where they stand. Exceptions can be made as complex situations arise. What we are seeing now is the exact reverse of that. Indeed, the only rule left is the exception to the rule. And so as these arbitrary cases take shape, there is little political will or legal ground to prevent any of these things from happening. Why can't a girl who identifies herself as a boy become a Boy Scout? Why can't a boy who cross-dresses use a girl's bathroom (and vice-versa)? Aren't we past these gender-based restrictions?
After reading some of my concerns on this issue, there may be those who are inclined to describe them as sexually obsessed. That may be true, but if they are, then they are for one reason alone: so that young men can focus on something other than sex. Am I the only one who finds it more than a little disturbing that all of a sudden we are somehow so naive about sex, imagining that a bunch of adolescent boys are not really as affected by hormones as we remember ourselves to be? What kind of bizarrely Edenic universe have we placed ourselves in that we pretend that this is not potentially a serious problem? Some may point out that this is a double-standard, and that no one in the Boy Scouts would be reprimanded for sitting around talking about pretty girls. And this may be the case, but at least in that case, the girls are not sleeping in the same tent! I am not asking for a double standard here, I am simply asking for the original standard to be applied. If this is their inclination and they want to go about expressing it to everyone there, then so be it, but then common sense (and decent parenting skills) dictates that you separate them. If they prefer not to announce their sexual preferences, and they don't find it too much of a temptation to be with boys, then good, let's get back to doing what we should have been doing in the first place, not "scouting for boys," but being a Boy Scout!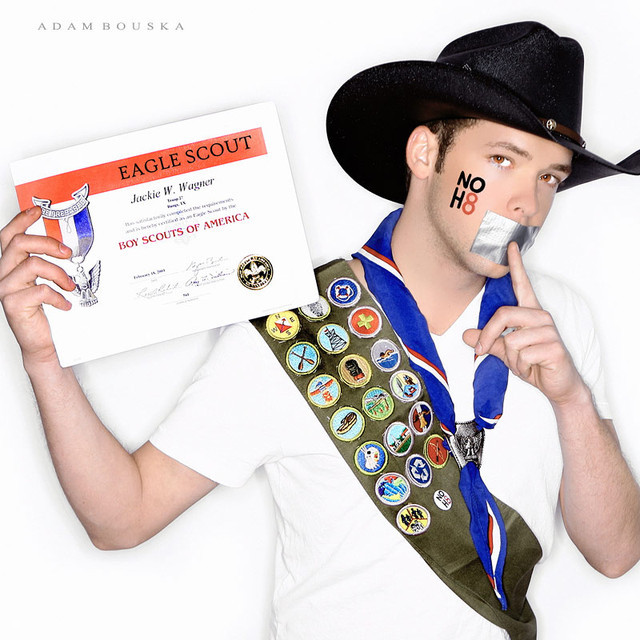 In the end, the reason I oppose making a policy on so-called "gays scouts" is not because I oppose "gay scouts". To the contrary, I oppose it because I believe it to be utterly irrelevant and distracting to the real purpose and mission of the Scouts. If the Scouts are singular in focus, just like a military, they can accomplish their goals. If they are distracted by one hundred and one moral dilemmas, then they will never even begin to begin. If the latter is preferred, then the Boy Scouts will no doubt spend the majority of their time "sharing their feelings" and learning "how to be sensitive" rather than learning vital survival skills. Let activists be activists, and let the Boy Scouts go about doing the non-controversial work of learning virtue (which of course includes learning the virtue of compassion). We already talk enough about sex in our culture- whatever one's inclinations, this is not the time or the place for it. Let these children be young, for God's sake! Whatever you think about homosexuality, transgenderism, or even those who are "questioning" their sexuality, prudence (not religion) dictates that these questions be left at the door. What should be championed above all things in this organization is brotherhood, not catering to every emotional whim that arises in a child's mind. The Boy Scouts were not created to be a hospital of grievances, but a camp where young boys could grow and develop into young men.