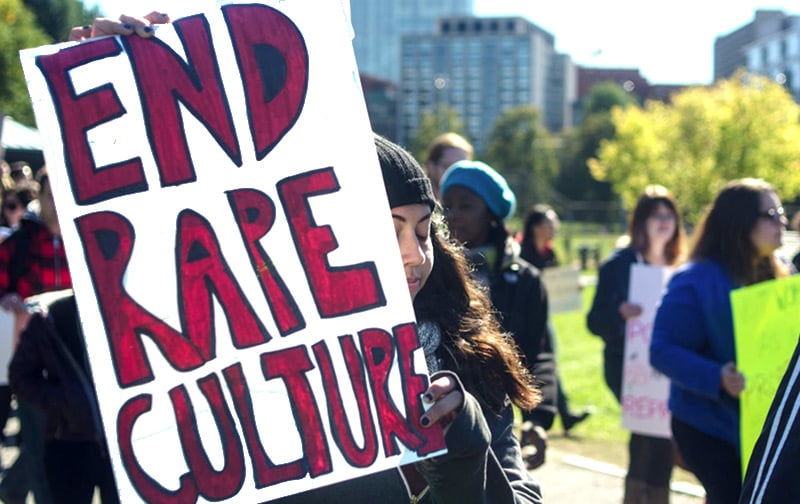 Over the past year or so, I have been introduced to a relatively new term known as "rape culture". As far as I can tell, it is a complaint launched against certain elements in society that seek to glamorize and/or rationalize the abuse and objectification of women (a complaint with which I agree). These individuals also seem very intent on castigating those who would attempt, in any way, to suggest that women
ever
have any responsibility for the subsequent abuse that they experience. One prime example of this rallying cry goes something like this: "Don't tell women how to dress- teach men not to rape". Just to be clear, I have about -1.3% amount of sympathy for rapists, so this has nothing to do with criticizing a victim, but I do think it is important to mention that there are some things that a women can do to lower the risk of attracting the type of men who may want to do just that.
First of all, some of these problems could be mitigated (not eliminated) if both men and women understood each other a little better... and then made a subsequent effort to adapt their behavior according to that understanding. The common criticism from women of men is that they do not listen. Well, I would agree they quite often don't, but it is possible (dare I say it) that women are capable of the same form of deafness. And one of the things that I am saying as a man, is that men are fundamentally visual creatures in such a way that our vision is directly connected to our sense of arousal. Are there exceptions? Yes, of course! But what I am saying is not only observably true- it is a physiological fact.
This explains why the majority of people who purchase pornography, and/or are addicted to it (not to mention those who distribute it), are men. Thus, if women do not want men staring at them as if they were some kind of Baconator, or model from the latest Carl's Burger ad, they should take this under advisement. This unpleasant ogling could of course happen to any women even were she dressed like a Menonite (because a pervert is a pervert after all), but I think common sense should tell us that the women featured below are far more likely to attract the wandering eyes of a predator (or even a normal guy), than a woman in a mumu.
I am not proposing that women adorn themselves with a burqa or mumu (this is a popular reductio ad absurdum). There is a middle ground. For example, when a woman dresses in a way that is attractive- but not overly revealing- most men are drawn to her face, rather than anywhere else on her body. Indeed, in this instance there is a kind of healthy curiosity that arises in a man about who this attractive person is. But when one is dressed in an overly
revealing
fashion, most men will be drawn to the part that is… well... most "revealing". I repeat, men tend to be "visual" creatures in this respect.
Nevertheless, some will complain that men should just control themselves, and that it is up to them to manage the way they behave, and I agree. But let's be honest, this is a particular weakness of men, so why would you want to prey on it (especially when this is precisely the kind of instinct which threatens to turn you into "prey")?
Part of the problem is that some women really do want to be viewed as "sexy", and they naturally do like the attention, what they want to manage/control is the precise kind of attention they receive. Unfortunately for them, "sexy" isn't discerning, it attracts whatever eyes are attracted. Yet like the opening scene from the movie Fantasia, the result quite often can be very different from what was initially intended. In other words, admiration from a distance, yes, negative attention and "stalkish" behavior that sometimes comes with it, absolutely not.
It should not surprise women then that immoral men run primarily on their libidinous instinct. Revealing outfits + unscrupulous men = buyer beware. This is a fact, not an accusation, and you can hold up whatever cardboard sign you want, but it doesn't necessarily reduce the risk. Men should not rape women. Check. Nevertheless, women should be wise to the fact that there are perverse men out there who tend to gravitate towards cleavages wherever they may be found on a woman's body. A woman's body is not inert in the eyes of a man. This may explain why some cultures go to extremes to cover up women (which I am not suggesting). Thus, men should indeed be taught how to treat women respectfully and reverently. And women should help men in this regard by, yes, telling them "not to rape", but also by avoiding blatant hypocrisy (i.e. blaming men for staring at a region of their body that their hemline/neckline seems clearly to suggest that they should stare at).
Leaving aside the question of modesty (as well as men who clearly have very little moral formation), let us consider for a moment another danger to the general welfare of women: the mainstreaming of sado-masochism. Indeed, if you can get over the fact that I just said "mainstream" and "sadomasochism" in the same sentence, you might get around to tackling another stunner. Irony of ironies, the first people who decry misogyny and "rape culture" are sometimes the first to celebrate kink, or to put it more accurately,
simulated rape
. After all, is not the whole idea behind S&M- that you should be treated like an animal, a slave, or some kind of prisoner who is tied up and completely vulnerable to the whims of their captor? Yes, thank you "50 Shades of Rape" for liberating women from the
bondage
of being treated like a beloved companion, and delivering them instead into the hands of one who would derive pleasure from inflicting pain upon them.
I am no psychiatrist, but if I were to diagnose why such people simulate what they decry, I would say that it is possible that they themselves have been a victim in the past, or perhaps it is just because they have grown completely numb and bored with life, or maybe such individuals simply feel incapable of experiencing any kind of vulnerability or intimacy unless it is imposed upon them in a completely unnatural way. Who's to say?
But whatever the reason, there is a healthier way to accomplish this sense of intimacy, and it doesn't involve bondage, or being suffocated. This healthier form of sexual expression actually possesses all of the "benefits" of bondage, but with this one important distinction: true intimacy never involves forcing someone into anything, or robbing them of their power or dignity. This positive form of "bondage" results when one gives one's self freely to another in a complete act of trust. Thus, one derives pleasure, not from the act of physically forcing someone to do what you want (or being forced to do it yourself), but rather from the desire to cede all power to the one you love. With sadomasochism, you make yourself a prisoner, not because you love them, but because you have some bizarre obsession with Stockholm syndrome. In the context of true intimacy, you give yourself completely, not as a means to encounter some kind of creepy stranger dominating you with a mask and whip, but because you know that your lover is also your liberator.
This picture features a story that recently went viral about a man married to his wife for fifty-five years, who, in spite of her death, still brings her picture with him, especially when he's dining out
Yet if you are still unconvinced that sado-masochism amounts to consensual rape, simply consider this little nugget of wisdom that I gleaned from a Planned Parenthood representative in their
video
on the practice of BDSM (Bondage-Sado-Masochism); "Rule Number #3: Because saying 'stop', 'don't' or 'no' may be part of the 'scene', partners practicing BDSM must agree on a safe word that's easy to remember…" Wait a minute, so now you're telling me that it is possible in some instances for "no" to mean "yes"? So you're telling me that as long as I call it a "scene", I can pretend I'm raping you all I want? I thought the golden rule of feminist sexuality made it clear that "no means no." Now you're telling that it doesn't necessarily apply so long as I'm only
pretending
to rape you? No, I can't imagine how that would create the wrong impression, or send the wrong message. After all, how could practicing a "rape scene" for kicks would inspire the real performance of it?
And by the way, this video is not only the time I have heard a Planned Parenthood representative offer this kind of
advice
to young girls (watch it if you can endure it). The only real question left is not whether "bondage chic" promotes "rape culture" (because it does), but whether or not supporters of things like
50 Shades of Grey
(and the like) believe that rape is OK as long as there is some kind of mutual agreement surrounding it? Based on all of this, is it any wonder where a rapist gets the idea that a woman "really wants it", when in truth what she is saying is quite the opposite?