It's the most wonderful time of the year... Although as a Christian I appreciate all of the joyful things that take place during this time of year, I have to say that I also kind of enjoy the atheist billboards that seem to adorn the season as well. What would December be without the great martyrs of atheism trying to make colors like
red
and
green
forbidden, or those magnificent "secret Santas" who work behind the scenes to make sure that trees are prohibited from the public square, or better still those altruists who stand firm against those propaganda-laden songs which attempt to remind us of charity and good will towards others. Nevertheless, these modern day Puritan party poopers, have their own form of propaganda, and one of their favorite proselytizing tricks is attempting to create disciples via the medium of gigantic billboards. And while it is true that not all of the billboards and advertisements that are featured below are Christmas related, it has become part of my Advent tradition to see what coal our modern day Scrooges have accrued throughout the year. To be honest, the general overtone of the following billboard messages should inspire sympathy more than anything. It as if these individuals are starring in the Grinch movie and are completely unaware of that fact. Their messages come in two forms. They either try to convince you by employing pure cynicism (i.e. you don't believe this idiotic stuff, do you?), or they do so by attempting to co-opt various Christian virtues, while attributing them to atheism instead (i.e. I am full of love without religion). Frankly, the whole thing smacks of desperation, and is particularly sad during a time of year where religion hangs in the air like a party that's just waiting to happen. Meanwhile in the face of all this merry-making, these modern day Humbugs declare with all of their pride and cynicism; "I would rather be boiled in my own pudding than go to your party!" And yet we must respond, not with a similar contempt or derision, but with the jollity and humor of uncle Scrooge's kind nephew who declares; "We will keep inviting you every year to our celebration until you agree to come!"
1. The Atheist Story of Creation
…But if man created God, then who created Man?
2. The Happy Atheist
"…And also I'm going to cut your family up into little pieces and store them in my freezer. Or was that not obvious by the maniacal look in my eyes?"
3. The Atheist Baby
"Yes, please do not indoctrinate me, and also please don't put words in my mouth either, because that pretty much amounts to the same thing". Oh no, it's too late! Look at those brain-washed baby eyes.
4. The Ironic Atheist
…or read.
5. Atheist Family Values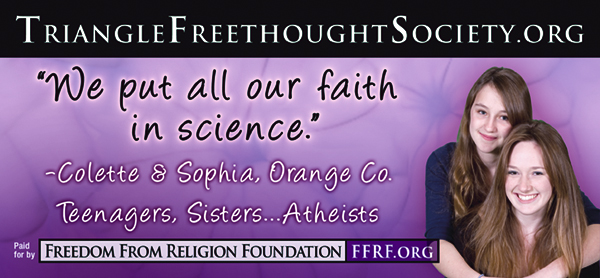 Wait a second... I thought science freed me from having to put my faith in something?
6. The Worst Argument For Atheism
Whatever these people believe, I want to believe the exact opposite.
7. When Atheists Contemplate
Penny for your thoughts, sir… Oh my, I do believe I have overestimated their net worth.
8. The Santa Atheist
…So said the man who looks nothing like any version of Santa Claus I've ever seen (thank God).
9. Atheist Airlines
Come fly Bah Humbug airlines, where we feel the need to wear Santa hats, smile broadly, and announce that we don't believe in God for no apparent reason!
10. Happy Winter Solstice
"We were simply going to leave this as a question, but since we are such champions of letting people 'think for themselves,' we decided to answer it for you."
11. Is Reality a Person?
"…Because unlike a Christian, I would never try to personify something that was intangible."
12. Senior Atheists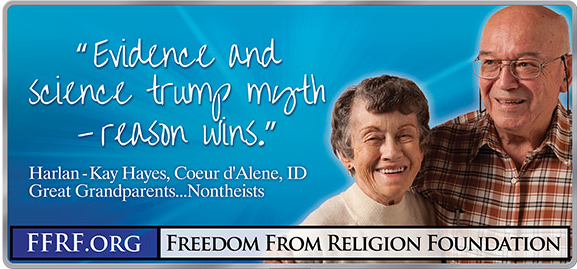 "Now Kay, why are we posing for this photograph again? Don't worry, Harlan, just smile and look happy like the young man told us."
13. The Charitable Work of Atheists
So true! And I want to thank all of the atheists out there for the indisputable fact that they are the primary force behind all the charitable works in the world today.... Oh, they're not? Who is then? Primarily religious organizations? OK, never mind then.
14. Hospitality and Atheism

"… And also I like reading, wearing goddess T-shirts, and entertaining guests. Would you like to try some of this fried stuff I made??? It's shake n' bake and I helped!"
15. Atheist Couples

"…But not too old for the latest hipster convention, or the most recent edition of Awkward Family Photos."
16. Pride and Atheism
"OK, I'm not quite
proud
yet. But I'm tryin' real hard. It's not easy to believe in nothing, but if you stop your brain from thinkin' and make it fuzzy like so, you too can have just as constipated a look on your face."
17. Atheists and Reason



…So taught the Catholic Church more than a thousand years before this blind dude.
18. The Workers Paradise
Signed - Karl Marx, Joseph Stalin, Pol Pot, Mao, and Stephen Uhl.
19. Truth and Atheists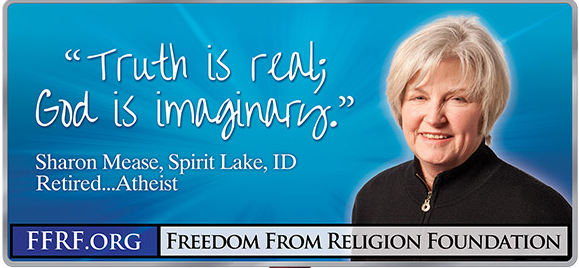 …What is truth?
20. Romance and Atheism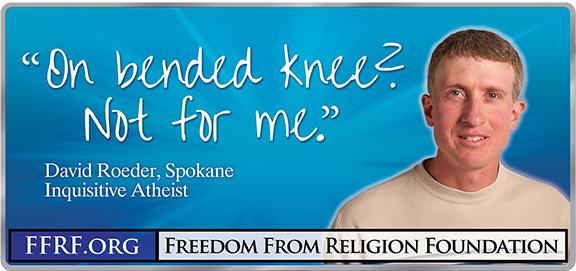 So said the guy whose marriage proposal sounded something like this; "Hey woman, what you say we get hitched in Vegas this weekend?"
21. Awkward Atheist Family Photos
"…If you're wondering why this photograph should convince you in any way of the merits of atheism, we at the Coalition of Human Reason are working on that answer. We promise to get back to you when we find it."
22. Atheist false gods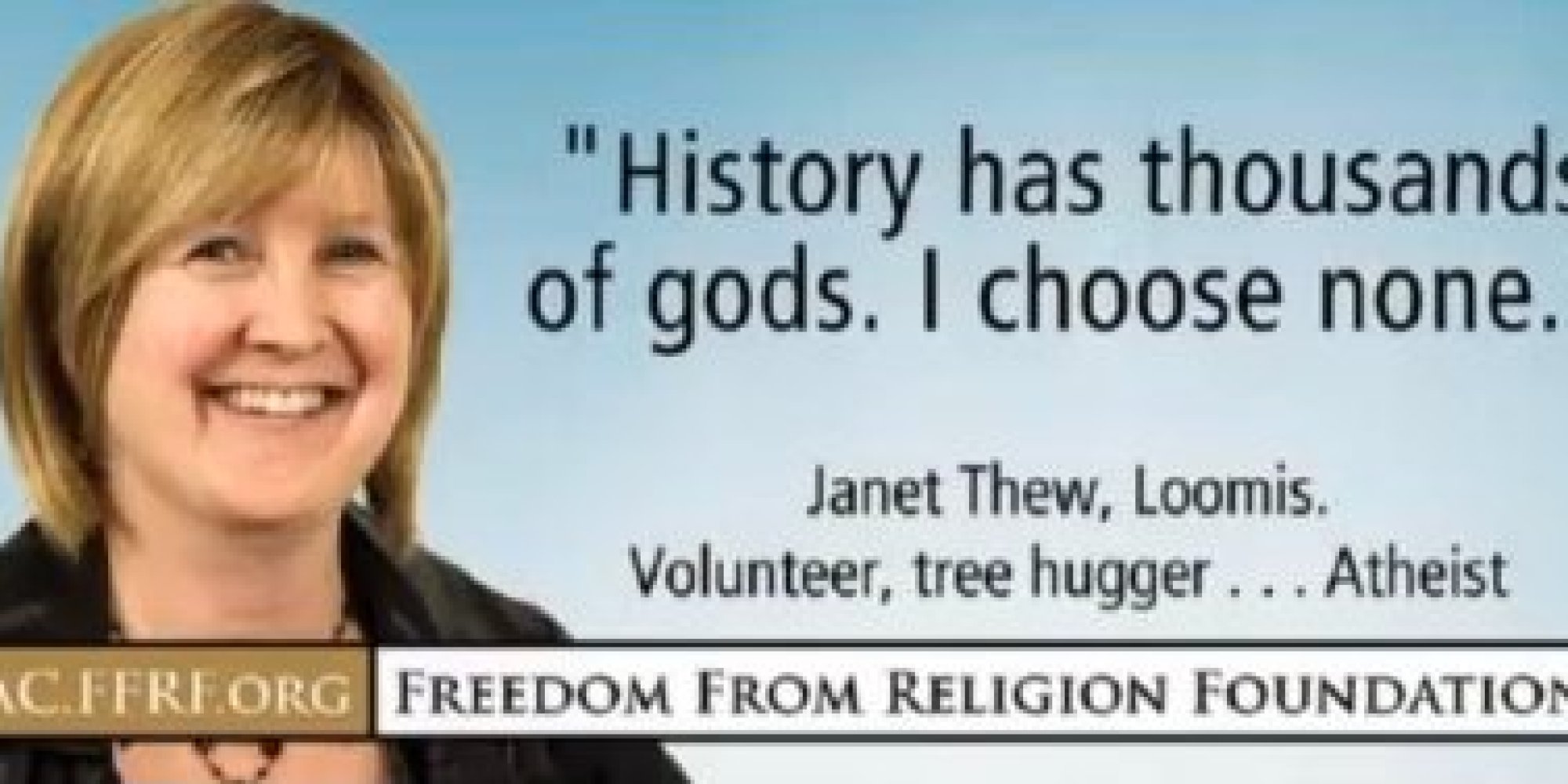 "…. Actually, there is one god that I
cling
to, or rather "hug". I know as an atheist I am not supposed to have imaginary friends, but the trees, they call to me, and I to them. And yes, sometimes we sit together for hours without saying a word and then I spontaneously hug them. Is that so wrong? Go atheism!"
23. The Atheist Non-Sequitur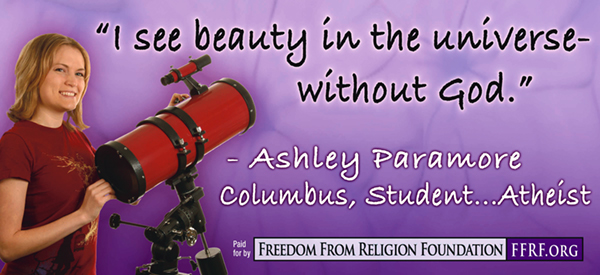 ...Said the girl out of nowhere, apropos of nothing.
24. The Atheist Formula for Success
…Oh, in case you were wondering, that's supposed to be a good thing.
25. Atheist Religion
"Religion not required... Except for this one time when I decided to quote one of the most popular religious/moral sayings ever to be uttered in the history of the world."
26. The Holy Book of Atheism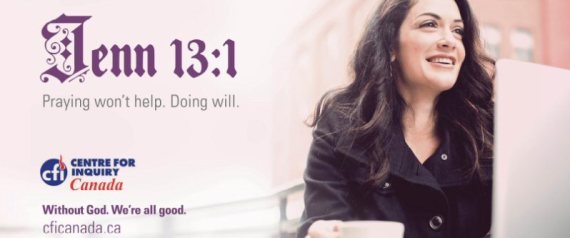 "If you would like to read more from the Book of Jenn, you can find it on Amazon.com or the Self-Worship section of your local Barnes and Noble. In this masterpiece of modern literature you will discover such brilliant insights as "prayer won't help", and "you can accomplish stuff when you do things". Most importantly though, Jenn reveals the secret to true happiness: 'Without God, everyone is good. And without a standard, you can't possibly fall below it.' Brilliant! Thank you Jenn for proving to me that atheists are not as naive as Christians!"
27. Atheism is Love
"…. You believe me don't you? Please Please believe me! Hey look, I can prove it. See, I made the shape of a heart with my fingers."
28. An Atheist Celebrates Christmas
"...So yeah, we decided to put Chinese food in there because we thought that if we didn't it would look too much like a Christian billboard, and that would kind of defeat the point, wouldn't you say?"
29. An Atheist Celebrates Christmas Part 2
Wait, so then why am I writing to Santa? Oh, that's right, not to be logically consistent, but rather to make a point...